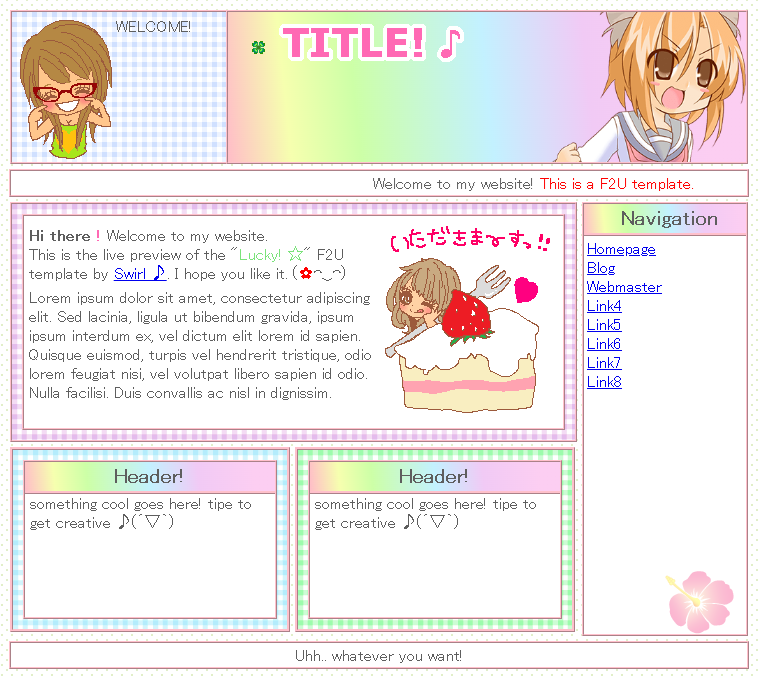 Lucky theme
:*:・。,☆゚'・:*:・。,ヽ(・∀・)人(・∀・)ノ ,。・:*:・゚'☆,。・:*:
Web Theme by the one and only Celine! 『 swirl.neocities.org 』
Preview here
Contact via email for any help regarding this template. ♪(´▽`)
purachoco@gmail.com
:*:・。,☆゚'・:*:・。,ヽ(・∀・)人(・∀・)ノ ,。・:*:・゚'☆,。・:*:
Please keep the web a friendly place. I would like more people to find this and redistribute it further.
With that being said, respect the rules! ₍₍ ◝(●˙꒳˙●)◜ ₎₎
Thank you ~ 🍀
Please read before usage!
♪ I've been seeing violation of the rules, which I'm a little sad about. I made this so having a site is more accesible! Please abide by the TOS so that more people can discover this!
♪ Please don't edit the credit! Please don't set it to the smallest font size so it's not visible, or edit the text. If moving the credit is necessary please do so, just do not remove or edit! This can be a small mistake. I've added notes to guide you as to where you can edit, which is everywhere except the credit.
♪ Please do not take any code from my personal homemade pages! This is a template, my website is not! Please don't forget that (;′⌒`)
♪ Other than that please have fun with it and customize to your liking!